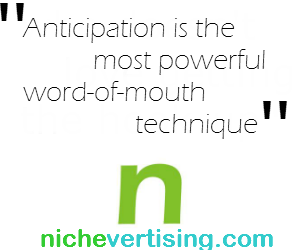 The ability to make something go viral is both an art and a science.  On the one hand, the art of going viral is synonymous with luck.   While on the other hand, the science of going viral is typically attributed to skill.
When you are bootstrapping your business,  you just don't have the luxury to spend money on advertising that requires luck for success.  This is why the vast majority of bootstrapping entrepreneurs default to word-of-mouth advertising as their only strategy to grow virally.
If you are in this situation, then it is critical that you develop the skills to create a viral referral loop in your word-of-mouth strategy.
With that said, in previous posts I shared how the ad campaign for the new Superman movie was using the emotion of 'anticipation' to go viral.
This example showed how one could skillfully trigger several of the viral emotions such as  pleasure, excitement or anxiety just by getting a prospective customer to anticipate something.
Anticipation is the most powerful word-of-mouth technique because of this cascading emotion trigger.
As a result, I want to dig deeper into examples and strategies of how to best use anticipation to increase the likelihood that your word-of-mouth advertising goes viral.
I will start with sharing three effective word-of-mouth techniques to trigger the 'anticipation' emotion.
1. Anticipation through Event Marketing
Before you host or participate in your next event (e.g. webinar, conference, trade show, fair, etc),  tell your guest list that you will be making an exciting announcement at the event.
Tell them you gave a hint of the announcement on your [website, blog, your facebook page, etc.].
This will get your audience to both anticipate the event and drive extra traffic through a mini-treasure hunt.
I have been on the other end of this, and I have personally seen this technique work effectively to generate buzz and excitement.
Pro tip: make sure the announcement is truly exciting.
2.  Anticipation by Saving the Best for Last
The next time you give a talk, have a top 10 list of something you will share or tell a story in the form of a mystery.  Save this aspect of your talk until the end.
Get through about 70% of the content, but make sure you never get to the best part before you run out of time.
Tell the audience that they can either come talk to you afterwards to get the conclusion, or visit your [website, blog, your facebook page, etc.] to read it.
3.  Anticipation using the "Leaky Faucet" Technique
A fantastic way to generate demand for a  new product or service you are working on is to start by slowly leaking out information.
Specifically, start in your email newsletter or blog educating your audience with bits and pieces of information over 60 to 90 days.
When you are getting close to your release date, start educating them on the limitations you have in producing the final product or delivering the service. When you are days away from release, start taking pre-orders and let everyone know it will be provided on a first-come, first serve basis.
Then after pre-orders are closed, continue to build more anticipation with weekly hints of the date you will open orders up to everyone.