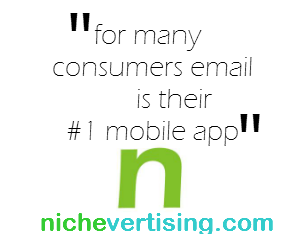 As an email marketer, there is one question you can't help but obsesses over. When is the best time to send an email newsletter? Fortunately, there are numerous companies out there collecting a massive amount of data in this area.  
However, until recently, one key element was missing in most of the reports. Comparing open rates on desktop to mobile to tablets with respect to time of day. This chart below does just that, and provides a definitive answer to the time to send email newsletter question. 
This chart below is from a post found on eMarketer.com titled Mobile Takes an Increasing Share of Email Opens.  In it, you can see the email open rates across desktop and smartphone peak at 3pm, while tablets peak at 8pm.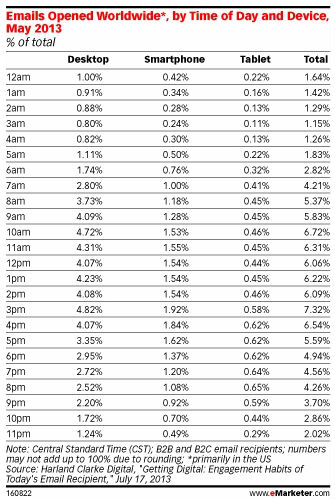 One thing noted in the report is that there is a tendency for consumers to open marketing emails on more than one device.
For example, the data showed that 7.2% of consumers opened an email on both their desktop and smartphone, 2.3% opened on both their desktop and tablet, 1.9% on both their smartphone and tablet, and 1% on all three.
The data also showed that more than half (55%)of all emails are still opened on a desktop device, with the smartphone only talling 25%, and the tablet talling a mere 7.3%.
This is very good actionable data for all email marketers.  Below are three takeaways you should consider in your next email marketing planning sessions:
1. The majority of the time, the best time to send an email newsletter is after 10:00 am and before 3:00 pm.  If you are in the U.S., and can't customize your email send time per time zone,   I would recommend sending between 2pm and 3pm eastern time to cast the widest net of success.
2.  With smartphones taking in 25% of opens in 2013, you can't ignore formatting your emails to optimize the look and feel for this smaller form factor. However, since desktop is still over 50% of all opens,  I would not obsess over it just yet.  The key is that now is the time to prepare for the day when smartphones (or tablets) overtake the desktop.  Since there is no rush today, you still have time to research and make a calculated decision on how to optimize your email marketing for mobile.
3.  Finally, email marketing is not dead.  If anything, with a growing number of consumers accessing email on their smartphones, email marketing has new life. As a matter of fact, for many consumers email is their #1 mobile app and still their preferred mechanism to communicate with the brands they love. If you still doubt the importance of email, please read this post that reveals 9 little known facts that make email more important than Facebook and Twitter.