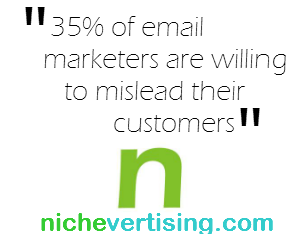 The key-word in the title of this post is customer.  Not prospect, not lead, not opportunity. CUSTOMERS.
The lifeblood of your business.  The last thing you want to do is destroy your credibility with CUSTOMERS!
However, data shows that 35% of business unknowingly destroy their credibility with existing customers everyday.  Are you part of this 35% of businesses that are in the dark?
If you read this blog regularly, chances are you're not.
How NOT to Destroy Your Credibility
The #1 thing you should NOT do to destroy your credibility with your customers is lie or mislead them.
However, according to eMarketer.com, more than 35% of email marketers automatically opt-in customers who make online purchases to a email newsletter that the customer did not explicitly request.
Yes, that's right 35% of email marketers are willing to mislead their customers in order to grow their email list.
So, the first thing you should do to not destroy your credibility with customers is to not be in this 35% of bad actors.
 Why Auto Opt-in Customers to an Email List
Auto opt-in for an email list is likely to grow your email subscriber database up to 25% faster, according to anecdotal research.  Some even argue that auto opting-in a customer at the time of an online purchase is still CAN-SPAM compliant.
This is why a rational business owner, who for all intents and purposes is honest in their everyday life, is willing to mislead their customers into joining their email marketing newsletter.
Why You Should Never Do This
Nevertheless, you should never auto opt-in a customer into your email marketing newsletter.
This customer made a purchase from you (or even just requested some information) and did not check a box to explicitly receive your ongoing newsletter.
This is the thing, you customers are not stupid.  They know that you automatically opted them into your newsletter without their permission.  So unless you are creating super sticky, high-quality, insanely relevant email newsletters — one of three things is going to happen:
1. Your customer will click the spam button in their email client
2. Your customer will unsubscribe
3. Your customer will ignore you
All three of these options are bad for business.
Being labeled as SPAM will destroy the deliverability rate of all of your emails and cause every email you send to end up in the SPAM folder. Even your opt-in email subscribers will get your mail in their SPAM folder.
I have 3 words for you: NOT. WORTH. IT.
Research show that existing customers are somewhere between 6 to 8 times more valuable than acquiring a new customer. So even if you don't get canned with SPAM, getting an unsubscribe from a customer is just as bad.  It limits how you may communicate with customers in the future.
This could be a real drag on sales if you can't send an existing customer a simple notice about a promotion you are offering without pissing them off.
They thought they unsubscribed from you emails, yet you are still sending them stuff.  Even legit emails will piss them off.
Again…NOT. WORTH. IT.
Even worse, maybe they don't SPAM you or unsubscribe, they just ignore you.
No notice, no warning, you just think everything is going great with you and this customer.
However, every email you send going forward gets straight deleted.  No questions asked.  No discussion.  Your email list is full of zombies.
You have a 1% open rate….You have lost all credibility…. Now what?
What You should Do Instead
Instead of automatically opting-in your customers to your email list, you should instead optimize your contact forms to get them to opt-in on their own.
This infographic  below shows that optimizing a signup form led to a 120% growth in conversions for one company, and even increased profits by 12 million dollars for another.