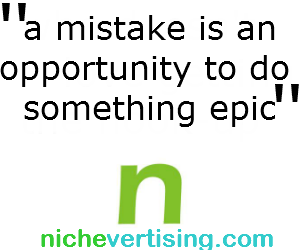 Alert: This is a post from my Daddy blog series
When you are bootstrapping your business, it's almost a must that you wear multiple hats.  It's likely that you do marketing and customer service or product development and product testing, or all of the above.  As you push yourself to the limit to get your business off the ground, it's inevitable that you will make one or two customer facing mistakes along the way.  The key is that you don't beat yourself up when this happens and turn this negative into a positive.
If you have been following this blog, you know that treating your customers noticeably better than your competition is one of the keys to create a viral referral loop. Therefore, a mistake is an opportunity to do something epic that separates you from your competition.  Let me illustrate this in an example.
Just this past weekend I was traveling with my family over spring break in Jacksonville, Fl.  We arrived at our hotel at 2 am in the morning.  Unfortunately, the front desk representative wrote down the wrong room number and we woke up some sleeping guest as I tried the key in the wrong door over and over again.  Once that problem was fixed and we got in our room, the sheets on the sofa bed my kids were going to sleep on were filthy with crumbs.
Needless to say I expressed my unhappiness with the front desk and was ready to immediately check-out.  The front-desk representative attempted to diffuse the problem with what appeared as a sincere apology and an offer for me to take anything I wanted from the hotel food market.  However I was still upset, but due to a busy-day ahead starting just a few hours later at 6 am, I was unable to take immediate action.
When we got back to our room the next day, not only was it immaculately cleaned, but the hotel manager left a apology gift basket on the table in our room.  In addition, my wife received a personal email from management offering another apology as well as generous amount of free reward points to use on a future stay at any of the hotel's brands. The profuse apologies from the front desk rep and management left me impressed with the speed of how the hotel escalated our problem and worked to resolve it.
I have experienced problems with hotel rooms several times in the past, yet I have never received this pleasant of a response in such a short amount of time.  It usually requires my escalation to management, instead of the employees escalating it up themselves.  So instead of me leaving this hotel with negative thoughts, I left feeling that this hotel experience was better than most others.
My recommendation is that we all use this example as a blueprint for how we deal with customers.  Whenever the inevitable customer facing mistake rears its ugly head, I suggest the following steps are followed each and every time:
Admit your mistake and offer an immediate and sincere apology
If possible, provide an immediate freebie or refund that changes the conversation from value loss to value gain for the customer.
Send the customer a follow-up apology within 24 hours with a free offer that provides an incentive to do business with you again.
Bonus steps 1: Keep track of this customer in a special database, if you don't hear back from them in a typical repeat visitor cycle, send them a handwritten note reiterating the original incentive while adding another bonus.
Bonus steps 2: When the customer returns, go over and beyond with customer service.  In addition, offer them the ability to offer their friends the hook-up with you by giving them one or more product freebies to giveaway.
The goal for steps 1 through 3 is to diffuse the customer's will to head to Facebook and Twitter and tell the world about the mistake your business just made.  The goal of bonus step 1 is to do everything you can to make sure they don't defect to your competition and you retain an ongoing customer.  The goal of bonus step 2 is the ultimate win, to turn this mistake into an opportunity to spark a viral referral loop.
The overall goal is to treat your customers noticeably better than most other companies treat them.  The key is to remember that you can not only do this during your everyday happy interactions, but also after you make a mistake.