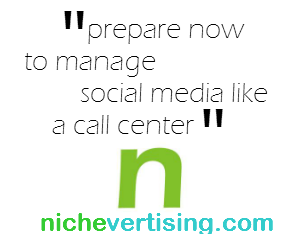 HubSpot is a company on the cutting edge of the inbound marketing industry. For those of you not so familiar with the term inbound marketing, it's a methodology that focuses marketing resources on the process of being found by prospective customers rather than using marketing resources to go out and find customers.
HubSpot basically invented the term, so it's not surprising that they are a leading provider of inbound marketing software as well as rolling out new solutions such as the Social Inbox.  
It almost goes without saying that social media sites such as Facebook and Twitter are critical to the process of being found by prospective customers and thus key pieces in any inbound marketing strategy. So when I read HubSpot's announcement yesterday about their upcoming release of a new Social Inbox I thought what. took. so. long.
The Social Inbox as implemented by HubSpot will allow users to combine their CRM database with their social media contacts to provide a real time view of customer interactions.  The three main features of the Social Inbox that HubSpot is promoting  are:
1. Getting an alert when a contact mentions your company on Twitter
2. Getting an alert when a contact mentions your competitor on Twitter
3. Getting an alert when a contact ask for help or advice, then having the ability to automatically add the contact to a series of autoresponder follow-ups emails.
Breaking down the impact
So, as you can see, the three main features of the Social Inbox are heavy on providing a business real time alerts from Twitter.  I'm sure they are working on integrating other social platforms as well, so it's just a matter of time before a business will get alerts across Facebook, Google+, Pintrest, Linkedin, etc.
From my vantage point, I see 2 significant impacts as a result of HubSpot's Social Inbox and other systems that provide similar features.
1. The world of Haves vs. Have Nots will decide winners and losers 
Having marketing automation software is a huge competitive advantage if you are in an industry of late adopters.  If you can get your hands on software that 10Xs your productivity such as what HubSpot's marketing automation software does, you will have a huge head start.
On the other hand, HubSpot's software as well as many other similar systems start off costing anywhere from $200 to $1000 a month.  This is cost prohibitive for most bootstrapping entrepreneurs.  If you fall in this category, you must get creative in the way you cobble together free or low cost software to create a suite of products to compete with the big boys.
2. The New Call Center:  Customers will expect real time engagement to solve their problems
Gone are the days of sitting on hold to talk to a representative.  As more and more business start using automation software to get real time alerts, customers will get use to being able to tweet out a problem and get a response back within seconds not minutes.
When they don't get this type of engagement, it's possible that things could turn negative in a very public way.  So you must prepare now to manage social media like a call center.
If done strategically, this could have fantastic business benefits as you will get to know your customer intimately and provide upsell and adjacent solutions that they will be clamoring to buy.  If you don't, there's surely the potential for you to lose customers as they insist you engage with them through social channels.
How to prepare for the Social Inbox now?
To start, you should evaluate the products in the market today that are leading the way in the marketing automation arms race.  In addition to HubSpot, I would also take a look at Marketo, and Pardot, all leading providers in the industry.  There are also a number of other players, but there are just too many to list.
Focus on features instead of price until you are ready to buy
Don't worry about the price so much at first, focus on the features that marketing automation software provides instead.  Try to focus on the features you need to automate the key marketing processes that grow your business today.  Then search the web for the keywords that describe those features.  There is a good chance you can find an independent solution that handles the feature you need for free or at a low cost.
WordPress Users
If you are a WordPress user, there are a number of plugins that handle everything from creating landing pages to sending email autoresponders.  Most of these plugins use a freemium model, so you can get started using them right away for free and only pay when you go over a threshold of use.  All you have to do to get started is to use the same keywords you used to search the web to search the Wordpress plugin market.
The Bare Minimum
At a bare minimum, your marketing automation should include the ability to segment your customers and potential customers into various email list with autoresponders set up to automate your engagement with them.
If you don't have an email list, then your competition's ability to take your lunch money through their use of a cool Social Inbox is the least of your problems.  Before you can automate anything, you must have a email list of customers and potential customers that is being actively maintained and pruned on a monthly basis.