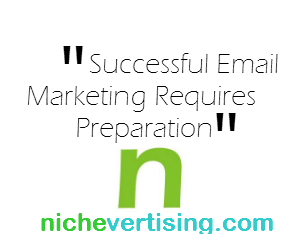 The essence of strategy is as much about what you don't do as what you do. It's the combination of both of these things that allows a business to find a defensible niche in the hearts and minds of their customers.
When it comes to the evolution of email marketing in the new social and mobile world, strategically thinking like this is a must.  Businesses basically have no choice but to be social, and owning the don'ts as much as the dos is a critical part of converting fans, followers, and friends into paying customers.
Simms Jenkins in his latest book The New Inbox puts this particular brand of strategic thinking into a playbook that I think is a must read for all social businesses.
This is why I'm highlighting the quotes in this book that illustrate this strategic thinking best.
1. Email's the Quarterback
Email's [the] quarterback position on the marketing field.
[pg 10, para  2] – Click to Tweet
2. You CAN Get Value Without the Click
An email doesn't have to be clicked upon (or counted as an open) to work and that in and of itself is powerful.
[pg 15,para 3] – Click to Tweet
3. Cut and Paste Can Kill Your Value
Brands that cut and paste content and offers on all platforms dilute the value of opting in to each experience.
[pg 40, para 1] – Click to Tweet
4. The Goal isn't to be Good At Social Media
The goal isn't to be good at social media.  The goal is to be good at business because of social media, and integrating with email is a great step in bridging that gap.
[pg 46, para 3] – Click to Tweet
5. Email is Mobile
Email marketers are mobile marketers whether you like it or not
[pg 52, para 1] – Click to Tweet
6. Email Marketing is a profit center
Invest in email marketing as a profit center, not a marketing expense
[pg 78, para 2] – Click to Tweet
7. Don't Hunt for Profiles, Hunt for Permission
Too often B2B marketers fall into some traps. They buy bad data or spend their time hunting for a profile rather than permission-based leads.
[pg 85, para 3] – Click to Tweet
8. The From Line is as Important as the Subject Line
The from line is the unsung superhero of every email
[pg 87, para 4] – Click to Tweet
9. Successful Email Marketing Requires Preparation
Your emails may be sent every week, but just like any NFL or NCAA coach, merely showing up on game day without full preparation doesn't cut it.
[pg 110, para 3] – Click to Tweet
10. Your Audience isn't Waiting for Your Emails
Remember, your audience isn't waiting for your emails- you are likely interrupting them so you need to offer a compelling reason for them to give you 10 seconds or so.
[pg 120, para 1] – Click to Tweet
11. Don't Go for the Sale on the First Email
Don't go for the sale on the first (or second email) – this is a nurturing and relationship game here.
[pg 120, para 2] – Click to Tweet