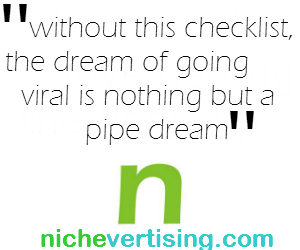 Over the years, I have found that the difference between a day of progress and a day of stagnation is separated by whether or not there was a written to-do checklist to follow. So now that I have declared that the only goal that matters for a bootstrapping entrepreneur is to create a viral referral loop, there must be a daily checklist with the things to do that will incrementally progress you to this goal. Both you and I know that without this checklist, the dream of going viral is nothing but a pipe dream.
So to help you out, I wanted to share my personal things to-do checklist. I use this list everyday to keep me on course in my goal to create a viral referral loop for Nichevertising.  I will admit that getting to the point where you can get all 10 of these things done everyday is a challenging process in itself.  After two weeks of using it, I have yet to check-off 10 out of 10  items in a single day.  However, every single day I am getting closer.
Fortunately, the science of going viral shows that measurement and continuous improvement will lead to ultimate success.  So it's not important for you to do all 10 of these things perfectly on the first day or week you get started.  What's important is that you just get started and everyday get more efficient as you work through this list.
So without further ado,  here is my list of the top 10 things you should do everyday to help amplify your word-of-mouth advertising so that you get closer and closer to a viral referral loop:
Send thank you emails to your last 10 customers and send we miss you emails to 10 customers you haven't seen in a while.

Call one of your best customers and offer them a customer appreciation special offer.  Tell them if they refer a friend, their friend will also get a special offer if the friend mentions their name.
Research and document notes in preparation for an upcoming webinar in which you will teach your customers and prospects something interesting or surprising.
Work on the contents of the next email newsletter that you will send to your best customers containing a subset of the analysis of your research.
Write a blog post for your company blog based on a subset of your research and share it with your friends on your favorite social sites.
Read through the top blogs in your industry and submit a thoughtful comment.  Then elaborate on this comment in a guest blog post and send it to the blog's editor for review.
Send an email to one of the top journalist in your industry pitching a story idea you could help with and/or tell them they are doing a great job. Send a handwritten letter to this publication, to the attention of this same journalist reiterating your email.
On your favorite social sites, find and follow 5 entrepreneurs in your niche offering products and services complementary to what you do.  Read what they are sharing, then send them related ideas for collaboration.
Find and follow 25 prospects on your favorite social sites that are currently following one of your competitors. Send a personalized thank you to each person that follows you back.
Evaluate the results of all of your efforts using a measurement tool.  If your measurement tool is not in place, work on creating it.