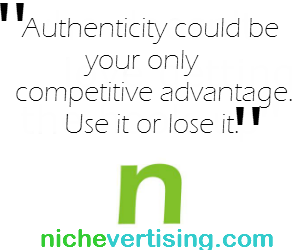 This week on twitter I came across a motivational quote that immediately connected with my soul. It was from the legendary hall of fame basketball coach John Wooden. The quote goes:
Do not let what you cannot do interfere with what you can do.
When it comes to building an email list, remembering this quote is critical. Not obeying the wisdom in this quote is probably the #1 reason all bootstrapping entrepreneurs don't get started with building an email list so they can use email marketing to grow their business.
This post today is specifically to remind you of what you can do.  There are three old school methods anyone can use to start building an email list from scratch that are not only free, but don't require any advanced technical skills.
I would argue that even if you do have advanced skills, to still start building your email list with these low-tech methods.  Why? Because today's email list building strategies depend so much on flashy marketing tricks, hacks, and diversions. As a bootstrapping entrepreneur, these new school tactics could do more harm than good for you in the early brand building phase. As a result, these three old school methods for building an email list from scratch will work better today than they did in 1999 to both get you to stop procrastinating and help you build an authentic brand.
So without further ado, here are my three old school methods for building an email list from scratch that will work even better today:
1. Start building your email list with close friends and family
Back in the day, before Facebook, Twitter and Linkedin (the big 3), the only way to start building an email list from scratch was to go to your AOL, Hotmail or Yahoo webmail account and send an email to all of the close friends and family you normally corresponded with by email.  Generally, folks have totally abandoned this method.
The experts tell you that the best way to build an email list is to use some fancy list building tactic that starts with SEM, SEO or an inbound marketing funnel to drive prospects from search engines or the big three in social media to a A/B tested squeeze page.
Don't get me wrong, what the experts tell you will work. However, the plethora of upfront tasks you must complete before you collect your first email address is what holds most bootstrapping entrepreneurs back from just getting started.
So here is where John Wooden's quote comes in. Don't let what you can't do hold you back from doing what you can do.  When you are first starting to build your email list from scratch, all you have to do is start with your close friends and family.
Send them an email telling a heart felt, authentic story about the business you are launching. Tell them you will be sending out weekly updates highlighting your progress and sharing interesting industry news. Ask them to forward this email to any of their contacts they think would be interested. Finally, let them know if they don't want to be included on your email list anymore to just let you know and you won't bother them about it again.
Remember, these are your close friends and family, it's okay to ask for forgiveness instead of permission.
2. Start with a spreadsheet and a webmail account
In today's software as a service economy, there are probably 10 or 20 different email marketing platforms the experts will point you to if you want to build an email list from scratch. The startup experts will recommend MailChimp, the non-profit experts will recommend Constant Contact, the internet marketing experts will recommend Aweber, and on and on.
Don't get caught in analysis paralysis when choosing an email marketing software application.  Back in 1999, most of these systems didn't exist.  The best choice for most people was again firing up their trusty AOL, Hotmail or Yahoo webmail accounts.  I recommend you do the same thing today when you first get started.
Step 1:  Whether you have moved to Gmail or stuck with what worked back in the day, you now have the option to configure these accounts to send email from a branded domain name instead of the generic @gmail.com address.  All you have to do is make sure you have your own domain name hooked into your webmail account, and then use this as your email marketing system.
Step 2: Collect up all the names and email addresses of the contacts in your address book and take the time to copy and paste them into a spreadsheet.  You can use either Google spreadsheets or Microsoft Excel.  I still prefer Excel.
You want to do this so that if anyone responds and tells you to remove them from your list, you can go to your spreadsheet and delete them. It's probably a good idea to also create a date column to tick off next to the names of the people you sent an email on each date.  You may also want a "advocate" column to tick off the specific people who respond enthusiastically to your emails so you can send them special follow-ups.
Finally, if you have a large contact list of friends and family to start with,  split the list into multiple tabs of about 25 contacts each. Most webmail providers limit the number of emails you can send in one message.  25 is a random number I picked, but I know this is a small enough number to not break any limits.  You may have to play with this number, but my assumption is that first starting off you have a small contact list.  Once you get over 100 or so contacts, spreadsheets become too time consuming and it will be time to upgrade to an email marketing system.
Step 3: Save the file in the original format as well as save it as a comma delimited .csv file type.  Using the csv file, you can open it up in a basic text editor then copy the names from there right into the "BCC" box in your email account.  Make sure you use "BCC" because you don't want to expose everyone's email address to each other when they open your email.  In the "To" box, just use your own email address.
Step 4: Write and format your email.  You will have limited options to create a fancy looking newsletter and that's okay.  The point is that you are just starting out, so don't worry about being fancy.  Just start out with a short message stating exactly what's included below,  use bold headers to start each subsection of text, and use a generous amount of bullet points, and numbered list.
Formatting email newsletters is another big roadblock, so limiting yourself to the simple controls of a webmail account is a good thing.  Again, don't let what you can't do stop you from doing what you can do. Besides, many of those gaudy email newsletter templates that come with the big email marketing systems are way too busy and can be a turn-off.
3.  Use very specific subject lines saying exactly what you want
Talk about old school, actually telling people exactly what you want from them in the email subject line is definitely something that needs to come back in style.  There is no need to come up with a fancy email subject line to trick people to open your email.  Back in 1999, I can remember getting 50 to 75 character sentences saying exactly what was needed from me in the email subject.  Nowadays, email marketers are using every trick in the book to come up with a catchy subject line.
Don't let creating an email subject line slow you down.  If you need help raising money, say that specifically in the subject line (i.e. Please help me raise money for my new venture).  If you want your college friends to forward this message to their classmates, just say it (i.e. I need your help getting the word out about my new business).   Just remember, it is better that people just delete your email if they don't care.  You never want someone to open your emails just to get disappointed because you tricked them into wasting their time.  If this happens, it is likely that they will label you as spam.
In short, authenticity is back in style and many big companies have not got the memo yet.  As a result, authenticity could be your only competitive advantage. Use it or lose it.