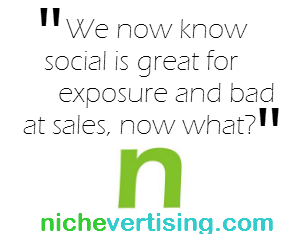 It's common to advise SMBs trying to figure out how to increase sales to tell them to use one of the social media platforms.  I was sitting in on a "how to increase sales" webinar just last week that was pitching Pinterest as the platform to increase sales.
I thought to myself: "the logic is there, but is it really true?"  Unfortunately,  yes for some, no for most. Which can be said for almost all social media sites.  However, there is one platform that flips this: no for some, yes for most and that is what we're going to discuss today.
Increasing Sales: It's Always about the Data
According to data published last week by eMarketer.com in a research article titled: Social Gives SMBs Maximum Exposure, Facebook is the most imporatant marketing platform for SMBs worldwide for 67% of B2C companies and 29% of B2B companies.
However, when it comes to increasing sales, there's a huge disconnect.  Check out this graph below from eMarketer.com:
As you can see, when it comes to the benefits of social media marketing, increasing sales is at the bottom of the list.  In addition, the second cousin of increasing sales, "reducing expenses" comes in second to last.
We actually talked a little about this in an epic post I did that got me a few great retweets on twitter titled: Only losers sell on social media – How to sell and not be a loser.
Social Media Exposure vs. Increased Sales with Blogging
This data is all well and good. We now know social is great for exposure and bad at sales, now what?   We are trying to figure out how to increase sales not how to increase vanity metrics.
To cut to the chase,  it turns out content marketing with blogs is the marketing strategy of choice to increase sales.
We all know that social media is about sharing.  This is why it's such a great tool for increasing exposure and driving traffic.  But where is that traffic being driven?
If you are not blogging, you are probably sharing content created by other people.  That is definitely part of what you're suppose to do.  However, if 100% of the quality content you share on Pinterest, Facebook, Twitter, G+ and LinkedIn is other people's content, then what are you doing for your sales?
Seeing Beyond the Share
If your answer is sharing a link to your home page, product page, landing page, or squeeze page, then you are making a terrible rookie mistake. Those pages will never convert by tweeting a link or through a status update.
If you are trying to figure out how to increase sales, then you must start by creating quality content on your website using your blog.  The data doesn't lie. This infographic below breaks down the facts: