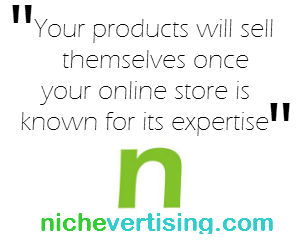 Content marketing is the hottest trend in marketing right now, bar none.  So if you are trying to figure out how to market your online store, content marketing is your answer. Content marketing is hot right now for 3 significant reasons:
SEO is dead – learn why here
Content marketing levels the playing field
Content marketing helps you builds trust with your customer
In short, content marketing helps online stores sell more products by creating conversations that engage the target audience instead of aggressively selling to them.
As an ecommerce entrepreneur running an online store, the primary strategy you must use to sell more products is not pitching your products to your target audience every chance you get.  That's so 2010. Instead, you must become an expert in your niche (read: being an expert vs. being consistent) by sharing content that educates your audience.
Your products will sell themselves once your online store is known for its expertise.
To get started with content marketing for an online store, it's essential that you create these 21 content marketing types to share with your target audience:
Content Types For Each Product Category
The [Product Category] Ultimate Comparison Guide article, video, and slideshow
The Top 5 [Product Category] Review article, video, and slideshow
The Don't Do These 10 Things when [Product Category Activity] article, video, and slideshow
The Little Known Facts About [Product Category]  article, video and slideshow
The What [Famous Product Category Expert] Can Teach you About [Product Category] article, video and slideshow
The Interview with [Famous Product Category Expert] Reveals the Secrets of [Product Category] article, video, and slideshow
The [Product Category] Manifesto article, video, and slideshow
The [Product Category] [Year] Survey Results infographic, article, and slideshow
The Future of [Product Category] article, video, and slideshow
The [Year] [Product Category] of the Year article, video, and slideshow
The [Year] [Product Category] Annual Research Report article and slideshow
The [Holiday Name] Guide to [Product Category] article, video and slideshow
The Careers in  [Product Category] article, video and slideshow
The Choosing the right [Product Category] for [Niche Demographic] article, video and slideshow
The  [Product Category] Challange article, video, and slideshow
Content Types For Each Individual Niche Products
The What is a [Niche Product] explainer article, video, and slideshow
The Comprehensive Review of [Niche Product] article, video, and slideshow
The  [Niche Product ] Tips and Trends article, video, and slideshow
The How to [Niche Product Activity] article, video, and slideshow
The 5 Mistakes to Avoid When [Niche Product Activity] article, video, and slideshow
The [Niche Product  1] vs. [Niche Product 2] article, video, and slideshow