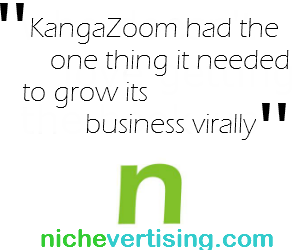 This past weekend I celebrated the birthday of one of my little ones.  The party was held at an indoor children's play center named KangaZoom.  The facility had your typical inflatable jumpers, bouncers, and slides.  From the outside looking in, there was nothing exceptional about KangaZoom.  However, once the party was over I knew the owners of KangaZoom had the one thing it needed to grow its business virally with word-of-mouth advertising.
Just for the record, I have probably been to over 30 children's birthday parties over the last 10 years.  I more or less know exactly what to expect when you show up to a kid's birthday party at an all-in-one party and play facility.  Whether it's Chuck E Cheese, Monkey Joe's, or another similar birthday party place, the customer service is more or less average at best.   You show-up, the kids play, you get cheap pizza, you go home.
Surprisingly enough, KangaZoom did things slightly different.   We showed up, we got a personal party assistant assigned to us.  She helped us unload all of our party supplies out of our car.  This was surprise one.  We've never had anyone from a party place assist us with unloading our car.  Not only that, once the car was unloaded she took all of our stuff and completely set-up our party room.  I was already impressed.
Next, the kids played for about an hour.  Nothing out of the ordinary, the kids went crazy having fun on the jumpers.  Then, it was time to eat.  Again, or party assistant surprised us.  She served the food to the kids, set-up our cupcakes on a nice party tray, then she walked around with the tray personally serving both the parents and kids. This was surprise two.
In addition, one of the kids started crying because for some random reason, the little girl wanted a pack of fish crackers.  We didn't have fish crackers as part of our party snacks, but the little girl was ready to get hysterical if she didn't get some.  Again, our party assistant came to the rescue.  Apparently there was a snack shop in the front of the facility with fish crackers.  Our assistant graciously went and grabbed a pack and made the little girl's day.  She charged us nothing for the 50 cent pack.  Small gesture, but still it was surprise three.
Then after food, cupcakes, and the happy birthday song was over, we got our third surprise.  Typically, at a place like this they send everyone home as you have reached your time limit.  However, at KangaZoom they told us that the kids could stay and play until they closed for the day if we liked.  Of course we didn't stay that long, but the kids did stay for another 90 minutes going wild on the jumpers.  At the same time, our party assistant helped us wrap-up all the leftover food and load up our car.  This was surprise four and five.
Finally, after we settled up our bill and it was all said and done, they gave us two free passes to bring our kids back at a later date.  Surprise six…
So at this point I am sure you won't be surprised that the one thing you need for viral word of mouth advertising is to surprise your customers with great customer service.  Unfortunately, the current state of affairs at most businesses is that they barely provide average customer service.   If you get lucky, you may do business with someone who provides good customer service.  However, it's rare to find anything beyond good.
If you checked out my article on the 3 traits of a viral advertising campaign, you know that having something interesting and/or surprising is a must to go viral.  In the case of customer service, interesting is not the emotion you want to go after. So doing something pleasantly surprising is your best option. KangaZoom did not surprise me just one time either, they did six specific things that left me pleasantly surprised.  Good service would have been one or two of those things, but I would say six definitely qualifies as great.
So the next time you are evaluating how to get more word-of-mouth business, my first recommendation is to evaluate what specific things you can do to raise the bar on pleasantly surprising your customers with great customer service.